Automatic disinfection system for use in healthcare environments.
ITEL is specialized in Electromagnetic Compatibility and certifies all electrical and electronic devices for the purpose of CE marking through its EMC laboratory, which has been operating since 1996. Throughout the 2000s, ITEL has been focusing on the Electromagnetic Compatibility of electromedical devices.
Disinfecting surfaces is a measure of critical importance to prevent the spread of healthcare-associated infections (HCAI). Should an increasing number of cases arise within the healthcare facility, the hospital is called upon to manage their containment and may even face criminal charges concerning healthcare-associated infections, which can result in subsequent damage to the reputation of the facility.
The extension of preventive protocols across multiple wards is advised due to the fact that funds used for preventive measures are not in line with the actual need to deal with HCAI threats, along with the necessity to implement effective and economical prevention systems and the potential increases in costs following the reduction of reimbursements for facilities affiliated with DRG mechanisms.
Our response: we aim to effectively meet the actual disinfectant needs of healthcare facilities even with low doses, thus enabling a rapid reuse of the areas targeted with room-temperature treatments with no residual moisture. The micro-nebulizer is equipped with a hydrogen peroxide-based technology that provides for a reduction of bacterial load with adjustable intensity according to the users' needs. The system offers cost-effective results while remaining easy to use with minimal impact on the environment.
This offer consists of 3 items:
99MB Robotic device for micro-nebulization (IT99TMB01)
MODULATOR MICRO-NEBULIZER ENVIRONMENTAL DISINFECTION SYSTEM
99MBS modulator micro-nebulizer. Dimensions: 25L x 42D x 50H, Weight: 11.5 Kg (empty) – 12.5 Kg (full) bottle capacity: 1 L Stainless steel structure, programmable with delayed start, USB connection (2.0 and 3.0 compatible), software for the preparation of reports, coupled with its own hydrogen peroxide and silver cation solution; the 99S is an innovative robotic system for the disinfection of environments. The combined action of the two components of the system is based on proprietary HyperDRYMist® technology that allows for the diffusion of an entirely dry mist of a highly effective biocide. From a physics point of view, the system acts following gas-like dynamics, thus reaching every surface with complete uniformity.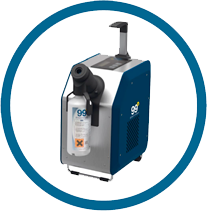 Manufacturer
99TECNOLOGIES
Product name
MICRO-NEBULIZOR 99MBS
Brief description
The Micro-nebulizer 99MBS* is an innovative disinfectant system, both tested and patented, which allows for the effective control of microbial levels in environments, causing the destruction of BACTERIA, FUNGI, VIRUSES, SPORES and BIOFILMS present in the air and on surfaces. The 99MBS surpasses the limits of traditional disinfection methods by introducing automation to disinfection, thus ensuring consistency as well as repetitive treatments.
Size
25(L) x 42(D) x 50(H) cm
Weight
10,5 kg
AC spec
230 V ~ – 50 Hz 1100W
Working temperature
+5°C ~ +40°C
Connectors
USB 2.0 – 3.0 compatible
Accessories
Disinfectant bottle with consumption of 1,000 ml/h
Certifications
DIRECTIVE 93/42/EEC and subsequent amendments

– EMC DIRECTIVE 2004/108/EC

– ROHS DIRECTIVE 2011/65/EU

– EN 60601 -1-2:2007

– CISPR 11:2009

– IEC 61000-3-2:2005 + A1:2008 +A2:2009

– IEC 61000-3-3:2008

– IEC 61000-4-2:2008

– IEC 61000-4-3:2006 + A1:2008

– IEC 61000-4-4:2004 + A1:2010

– IEC 61000-4-5:2005

– EC 61000-4-6:2008

– IEC 61000-4-11:2004

– EN 60601-1:2006

Datasheet rev
99S Disinfectant chemical solution (IT99T99S)
The 99S is a new and proprietary water-based hydrogen peroxide solution with silver cations added.
This 99S disinfectant solution has a broad spectrum of proven effectiveness as a bactericide, mycobactericide, fungicide, virucide and sporicide.
The 99S is released into environments and among medical equipment in a non-invasive way by means of the 99MB series of micro-nebulizers. The combined innovation present in the solution formulation coupled with the dispersion method of the micro-nebulizer constitute HyperDRYMist® technology.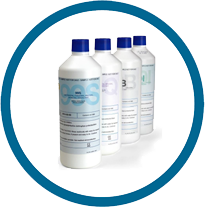 The 99S proprietary solution must only be used with the 99MB micro-nebulizers.
The 99S solution has been tested and proven effective in vitro for significant reduction or elimination of a large number of microorganisms, in full compliance with each standard tested. The following list includes only the microorganisms tested according to EN Standards:
Staphylococcus Aureus MRSA
Aspergillus Niger
Carbapenem-Resistant Klebsiella Pnemoniae (CR-KP)
Legionella Pneumophila
Murine Norovirus (MNV)
Adenovirus 5
Mycobacterium Avium
Mycobacterium Terrae
Among the large number of additional microorganisms tested, these are some of the microorganisms often found in healthcare facilities:
Staphylococcus Aureus
MRSA Enterococcus
Enterococcus Faecium VRE
Chlostridium Difficile
Acinetobacter Baumanii
Salmonella Thyphimurium
Listeria Monocytogenes
CORONAVIRUS
Effective and thorough disinfection of surfaces is a crucial element in all preventive measures to be taken in order to contain the spread of the Novel Coronavirus. Consequently, the 99MB system, along with the 99S solution, can be effectively used in the preventive measures adopted to contain the spread of CoViD-19.
C) Verification Kit for the bio-decontamination process of surfaces (IT99TKIT)
This kit is a microbial monitoring system, used for areas and equipment, which allows for the verification of microbial contamination associated with the surface of sampled areas. It can be used to evaluate the effectiveness of bio-decontamination processes by performing before and after sampling.
The kit contains:
10 contact plates (Ø 55mm) of Tryptic Soy Agar with added neutralizing agents, triple wrap sterile pack;
10 adhesive white labels for identification of plates used in sampling;
1 strip of Parafilm (about 20 cm in length) to be used for sealing the plates after sampling;
Assembly of each kit complies with ISO 9001 quality system.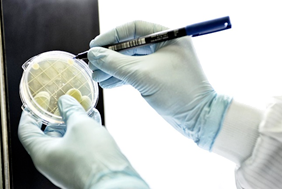 Following the sampling, an incubation/reading service as well as the drafting of an analysis report will be carried out; at the end of the sampling, the plates used will be sent to Itel's Microbiological Quality Control laboratory that will incubate the samples at the recommended temperatures within qualified incubators.
Upon completion of the tests, the Microbiological Quality Control laboratory will issue an analysis report containing the results of the tests carried out.
The verification of the bio-decontamination process of surfaces allows for the optimization of HyperDRYMist® technology as well as the consumption of the 99S solution according to the specific layout and workload of the diagnostic department.